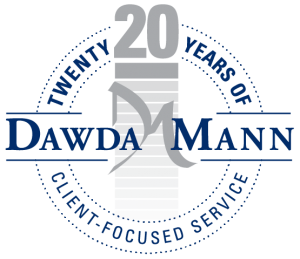 K2M worked with Dawda, Mann, Mulcahy and Sadler, PLC, a mid-size corporate law firm with 20 year roots in the Michigan business community.
K2M positioned this already successful firm as a brand of record in the market. Social media, new business collateral, an enriched website with deeper levels of resources for clients as well as individual marketing plans for each attorney were part of the program set up by K2M.
K2M worked with each attorney and practice group individually, as well as nurtured and strengthened the firm-wide brand and message.
K2M created a campaign around the firm's 2oth anniversary; a year of charitable giving and community events, branded anniversary collateral and a culminating gala were all part of the campaign.
Website Development.  Business Collateral.  Event Planning.  Social Media.  Print Advertising.  Individualized Marketing Plans.  Internal Communications and PR.