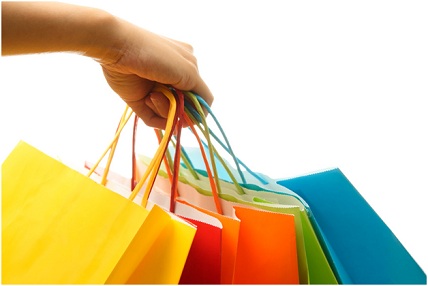 As we are approaching Thanksgiving, as well as the winter holidays, we are confronted with many different pitches for things to purchase, whether it's the automobile ads that are in high gear right now, or the multiple Black Friday plugs, as well as the flood of sales and specials landing in our cyber inbox and our actual mailbox.
It's interesting to consider how we ultimately make a decision whether to buy items online or to buy them in a brick and mortar store. Are we more impulsive when we point and click or are we more likely to buy when we are browsing in an actual retail establishment?
In a recent, completely unscientific spate of clothing shopping with one mother and two teenage daughters, we discovered the following:
When a specific store's website shows a lot of varieties of dresses that look like they would be becoming on you, it's very tempting to go to that store and try them on. Any savings on sales taxes are easily mitigated by being able to see the clothes on in person. We particularly liked going to pick out clothing with a clear idea in mind, and then being able to check out with efficient customer service assistance. Winner: Bricks and mortar
Mom, like lots of people, HATES trying on swimsuits. Finding a website that is known for flattering and not too revealing swimsuits for adult women's bodies is an antidote to the hell that is swimsuit donning in a department store dressing room. Winner:E-tail
A visit to a department store during a non-busy time (not Black Friday weekend or any of the weekends after it) is a good beginning step in making shopping decisions. We can see how the sizes fit and what is looking "in". Once that is done, a good website is much more enticing than spending time in the department store or the mall (this goes for Mom, Dad and kids.) When we were in stores with minimal salesperson contact, we were less likely to buy and much more likely to browse. Winner: E-tail
It was easy to stay focused and on target when we knew what we wanted to buy. The biggest impulse buying: the stop at CVS on the way home to buy "necessities", which somehow turned into a much larger, far less focused shopping foray. Winner: Bricks and mortar
For women and girls, it is a little scary to buy shoes online, unless you really know the brands and how they fit your foot. Mom did buy a pair of winter boots online that looked like they would fit (they did), but girls stuck to the stores. Winner: Both
So, what do learn from all this? As customers, there was no one sure way to market to us. We found the information we needed, which included styles, colors and prices by surfing on the web. We made ultimate shopping decisions, depending on how certain we felt about the item, either in person or online. We tended to be loyal to stores and brands we knew, especially if we had previous good shopping experiences
The best marketing plans to entice us? Give us well-constructed websites with accurate information, including pricing and availability. Send us incentives to keep us as loyal customers. And when we arrive in your store, allow for some impulse buys, but make sure we are recipients of good customer service.