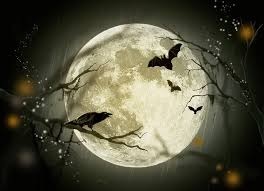 We have been rolling through Halloween-themed aisles for what seems like months now. Were they there concurrently with back to school shopping?
Now, we are actually approaching H-Day. So it's time to roll out our reviews of the best and worst components of Halloween:
Treats (We love these!)
Snack size candy. Who doesn't love these? And how many snack size Kit-Kats can you eat without counting them in your caloric intake?  And Hershey's Kisses? Forget about it! How about Butterfingers? Heaven!
Anything Minion. We are obsessed with Minions. Anything Minion is funny, whether it's minion heads, minion shorts or the entire minion ensemble.
Halloween flashlights: most Halloween accessories are kind of useless, but the combination Halloween cool looking whatever (saber, sword, jack-o-lantern) and a flashlight makes our kids wants to use them, and they are cheap enough that we don't get too upset if they only work for one night.
Soft-side treat bags. Totes are totally awesome. We're done with plastic treat containers with uncomfortable handles.
Block parties. We like these, even if they are a tad elitist. We saw a nice example of a block party this past Saturday, where the families chipped in for an inflatable, the police cordoned off the area to prevent through traffic and the kids were out during the day, carousing wholesomely with their neighbors.
Adult treats. We have discovered a few streets where there is a tradition of adult treats. If you bring your own coffee cup or martini glass, several neighbors will give you a shot or a mini espresso. Some even have adult treats on trays like a sushi roll. Fun!
Teal pumpkins: these symbols indicate that the household is distributing non-food items like stickers and glow sticks in order to include everybody, even those with food allergies. Very inclusive, not preachy and the parents who put out their teal pumpkins early are advertising to those with food allergies that this is a "safe stop".
DIY Haunted houses: We love when a family goes all out and turns their garage or backyard into a Haunted House.  And the cheesier and kitschier, the better (especially if it takes the edge off the scary quotient). Especially when there are no chain saws involved.
Tricks (We are trying to avoid these…)
Pixie Stix! We see no active marketing for these abominable snacks, and yet somebody is producing them and others are purchasing them and distributing them to poor unsuspecting children. Just to tell you how we feel about them: when we were kids, the equation for trading was 5 Pixie Stix = 1 Butterfinger.
Teen/Tween girl costumes. Confession time: Several years ago one of us bought a Dorothy costume in the appropriate size for our daughter. We even bought Toto in a basket and ruby covers for her shoes. On Halloween, said daughter tried on the costume, which did fit, but…somewhere between the child sizes and her size, cute girl Dorothy morphed into sexy Dorothy. We were not in Kansas anymore. We made her wear leggings and apologized in advance to the other parents.
Costumes at work…we think we're over this, but maybe age is a factor. We know we don't want our professional service providers to be dressed as vampires and we have mixed feelings about others.
Political costumes. You might think that Donald Trump or Hillary Clinton are fun costumes, but you better make sure you know your audience. Politics is generally a sticky subject at work, and these should be avoided.
We hope your Halloween is fun, not too scary and filled with far more treats than tricks, and of course, minimal Pixie Stix.