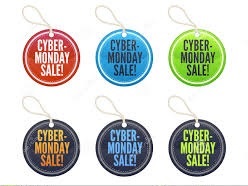 If you are living in a cave, perhaps you have missed that today is Cyber Monday, that tradition of just  a decade of pointing at an icon and then clicking as opposed to pointing at a window display and then clicking your heels inside the store.
Cyber Monday became a "thing" as a response to the perceived crazy antics of Black Friday, combined with the growing popularity of online shopping. Retailers realized the huge jump of purchases that occurred online when workers returned to their offices after a long weekend, logged on to their computers, and instead of doing actual work, began to buy a kitchen's sink worth of stuff. Now, retailers have embraced the Cyber Monday shenanigans, offering online discounts on Cyber Monday and contacting their regular or past customers and clients to entice them to shop.
Perhaps you are under the illusion that an additional benefit of Cyber Monday is being able to buy items tax-free. Not so fast…
You still pay sales tax if the establishment from which you are making a purchase is "domiciled" in any way in the state in which you live. So, if you love Francesca's in Birmingham and online (and we do), and you live in Michigan, then you pay a sales tax when you shop online at Francesca's, a nationwide clothing retailer, because Francesca's has a physical store in Michigan, several actually.
You may not have to pay a sales tax if you are buying from a place that does not have a brick and mortar store or distribution place in your state.
But that's not all. There is a pesky other tax called a "use tax". Essentially, you are required to pay for using the internet (I know this doesn't seem fair). But the strange thing about the use tax is that retailers are not required to collect them. No indeed. The purchaser is responsible for filing and paying. We repeat: you are still liable for the paying the use tax, even if the establishment doesn't collect it. The Michigan use tax is 6% and the rules about the Michigan use tax can be found right here:
But what about Amazon? Michiganders are in the enviable position of still enjoying a sales tax holiday on Cyber Monday with regards to Amazon (although that use tax officially does come into play). Twenty-three other states (soon it will be 24) are now paying sales tax on items purchased on Amazon. Michigan residents are not on that list.
So, the takeaway? Shop to your heart's content on Cyber Monday. Do so with the knowledge that it is convenient, and requires no parking lots or crowds, but it may still be taxing in other ways.