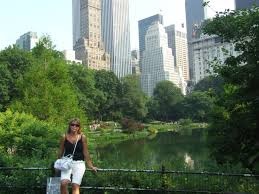 It was just a few days in New York. I had a free place to stay (thanks, wonderful brother).
And I had a true purpose: to pick up my college-aid kid whose nannying gig was ending.
And most of my time was already scheduled: a Broadway show that my brother wanted to see, a jazz performance that my brother-in-law wanted to see and brunch with aunts and uncles.
But, all was not planned. I had a few hours that were unaccounted for. What should I do?
It turns out that my phone was my best companion as I decided on my plan, which needed to include: good walks, a little art, not getting lost.
I had just seen the movie "Woman in Gold" and I decided I wanted to see the title painting, the portrait of Adele Bloch-Bauer. Where was it? My smart phone told me it was at the Neue Galerie. Five miles away. Perfect. I'll walk there.
I checked out the Neue Galerie's website regarding their collection, the admission price and their hours, along with the address. I already decided I would walk up Fifth Avenue as Central Park would be on my left, along with some pretty fancy addresses on my right.
It was a great walk, but I didn't want to double it, and wanted to ride back to the apartment, arriving when everybody else was waking up. I had checked out the city's transit system to figure out which train to take, where the closest stations were to start and where to disembark. And I also learned that I could buy a Metro pass, but there was a $1 surcharge. If I just bought a one ride pass, I could save a buck, literally. Sold. I entered the train as it continued to fill, and fill and fill.
Two days later, I was home alone while everybody was working. After getting some of my own work done, I made a decision to walk across the Brooklyn Bridge. After extensive play on my phone, I found the critical advice: to take the subway to Brooklyn and walk from there to Manhattan (the views are better) with information on the closest subway lines to the beginning and end and the best places to eat in DUMBO (in Brooklyn) and architectural reviews of surrounding buildings.
Later that day, I had to walk from coffee with a friend to pick up my daughter. The most direct path was right across Central Park. Awesome detailed maps of Central Park showed the exact path.
I also used my Map my Walk app throughout all of my perambulations so I could keep track of my miles walked and calories burned, a bonus!
The only thing that became evident is that I need to get an external battery charger, because any of these apps that utilize GPS just drain the battery in a huge way!