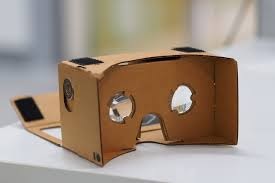 As I went out on my front porch to retrieve my Sunday New York Times at 7:30 a.m. , I noticed that the paper looked different. And indeed it was different. Every weekend subscriber received an added bonus: a Google Cardboard virtual reality reader (pictured at left).
While this may look like some sort of kindergarten recycling project, it's actually pretty amazing.
In order to get the ball rolling, you had to download the free NYT VR app, available for Android and Apple phones.The cardboard has a place for you to insert your smart phone (with a fairly recent operating system as a necessity).  Then you look through the lenses (in the holes) and experience a virtual reality.
The New York Times distributed the cardboard readers (they need a better name, I think) in conjunction with three stories of orphaned, displaced children. You could play the videos of the stories while looking through the readers and move your head up, down, to the left and right to take in a scene of where the children lived (Lebanon, south Sudan and eastern Ukraine). You also could walk forward "into" their scenes. It was an incredible, emotional, immersive experience.
But it didn't stop there. My 13 year-old quickly took the reader from me and began downloading all sorts of VR videos, including a Google maps street view (she went outside to view our house while viewing our house!), the White House, underneath the Eiffel Tower, the old city of Jerusalem, her summer camp, my sister's house, a Cedar Point roller coaster and more.
The New York Times  will be dropping more VR videos that accompany future stories. We are all excited to see the possibilities.
This was a very bold move on the part of the Times. It must have cost a fortune, although I suspect that Google fronted some of the collaboration. In addition, the costs for the creative talent for producing the writing and the VR videos appear to be quite high, at least if quality is any measure.
Will the Times  be the preeminent producer of Google cardboard reader content or just one of many? Does it matter?
We are not sure. For now, we recommend that you get your hands on a set of these. We think they deserve a lot more attention than the watch from that other company.